About Me
My name is Stephen Merity, though I'm most commonly referred to as Smerity. I'm a developer interested in web development, start-ups, natural language processing / machine learning, large-scale data analytics and an enormous amount of other topics.
I've been lucky enough to work with many fascinating people and groups over the years including Google Sydney, Freelancer.com, and the Schwa Lab at the University of Sydney. For more details you can view my resume or contact me in person at smerity@smerity.com.
I'm currently living in Sydney, Australia and working on various consulting projects. In August 2013, I'll be packing my bags and going over to complete a Master of Science (SM) in Computational Science and Engineering (CSE) at Harvard University.
Where's Smerity?
If you want to contact me, searching for Smerity will find most places I've inhabited online. If you're interested, almost all my Facebook communications are public as it allows people to discover a small amount of who I am and reminds me that even private things on Facebook aren't private.
Curious where you can find me online?
Smerity @ Google+
Smerity @ Github
Smerity @ LinkedIn
Smerity @ Twitter
Talks
Start-up Metrics (Smetrics?): Inspiration from Dave McClure & David Jones (December 2012)
Incubate
Machine Learning for your Robotic Army: A Crash Course using Python's Scikit-Learn (October 2012)
Sydney Python (SyPy)
Publications
Integrated Tagging and Pruning via Shift-Reduce CCG Parsing (2011) [pdf][bib]
Stephen Merity (supervisor: Dr James R. Curran)
Honours Thesis, The University of Sydney, Sydney, Australia
Best Student Presentation: Frontier Pruning for Shift-Reduce CCG Parsing (2011) [pdf][bib][presentation]
Stephen Merity and James R. Curran
Proceedings of the 2011 Australasian Language Technology Association Workshop, ALTA 2011
Accurate Argumentative Zoning with Maximum Entropy models (2009) [pdf][bib]
Stephen Merity, Tara Murphy and James R. Curran
Proceedings of the 2009 Workshop on Text and Citation Analysis for Scholarly Digital Libraries, ACL-IJCNLP 2009, pages 19-26
NCSS
A true about me would have to mention the National Computer Science School (NCSS), a summer school run at the University of Sydney involving talented high school students from all over Australia. Having had the privilege of going there seven times (first in 2007 as a student, then in 2008 as a returning student and finally as a tutor in 2009, 2010, 2011, 2012 and 2013), it has been one of the most delightful experiences of my entire life.
Over the course of a little over a week, students are introduced to a programming language, taken step by step through a set of educational challenges, and then work together to launch a fully fledged working product. This product has been a search engine, a social network, a group of maze navigating robots and every variation inbetween!
If you're a student or know someone that general age, sign up to NCSS or into NCSS Challenge!
Hi, I'm Smerity!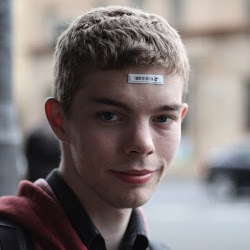 Hi, I'm Stephen Merity, better known as Smerity.
I spend my time doing what I enjoy, which is primarily some mix of coding and teaching. I've not yet had to live through a job I didn't enjoy.
Sydney University:
BIT (University Medal + First Class Honours)
Harvard University:
MS in CSE (starting August 2013)
Interested in saying hi?